The EASY way to find a LOCAL Breeder!!!
.........(Breeders,

Join Persian Web Ring

and be FOUND)
Colorado

Platinum Member
~ Boutique Kittens ~
At Boutique Kittens, we have kittens for adoption, yet so much more. Our "Bou Babies" are a part of our family. We are dedicated to nurturing healthy, happy, and beautiful kittens, and preparing them to become a treasured member of your family.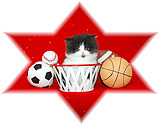 ~ AgapePersian ~
Luxurious, Beautiful, Healthy, PEDIGREED PERSIAN's available exclusively from AgapePersian. AgapePersian is a registered CFA cattery. We are a very small closed Cattery. We breed Silvers, Goldens, Calico, Bi-Color, and Solid White Persians. We also breed rare colors: Dilute Calico, Chinchillas (Silver & Golden), BlueGoldens, and BlueSilvers. All of our kittens will make wonderful and loving PETS, some have SHOW POTENTIAL! We breed for personality & health, breed standards, and finally color. Our kittens and cats are loving, trusting, and very cuddly; raised by our hands. They are all little Purr-Boxes!! Persians are the most loving of cat breeds. We do sell BREEDERS. Please let me know your intent when you contact me: inquiring for pet, show, or breed kitten. We do ship anywhere you are!! One year HEALTH GUARANTEE, PKD NEG.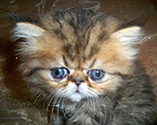 Premium Member.
~ Angel's Joy Persians ~
If you are looking for a sweet, playful, and most of all cuddly kitten, then look no further! You can rest assured you have finally found the kitten of your dreams! Angels joy Cattery is registered with the CFA and we have been pairing Persian kittens with loving families for the last 9 years! Our cats come from award winning pedigrees and PKD/FIV/FILV negative blood lines. Our kittens are carefully handled from the day they are born and always have the most wonderful dispositions and personalities. We spend many hours cuddling and playing with each and every one of our babies to ensure that they are well socialized and ready to be loved on by you. Each kitten comes to you with blue CFA registration, Health Certificate by licensed Veterinary. Shipping within the US are available for your cost. Please visit our site and Contact for more information. (We have kittens available now)


Premium Member.
~ Angelana Persians ~
We are a loving show home in Colorado, nestled by the Rocky Mountains. We keep our cattery small so we can love each and everyone of our furry "children" We are PKD, FeLV, FIP Negative tested. We breed for Health, Temperament, and Beauty always striving to exceed CFA standards. We breed Bi-Color and Solid Persians. We also have the elusive Bi-Color Blue and Odd Eyed gene's from Purrinlot. Kittens are raised in our home, with love and lot's of cuddling. We provide, health guarantee, shots, wormed, and their Blankie. Our kittens come from Grand Champion, National and Regional Winning lines. We do offer Kittens for Sale a few times a year. Visit our website, your invited to browse and get to know us. If you have any questions please feel free to contact us. Enjoy!

~ Amerikittes Persians ~
Amerikitties Persians has Traditional, Exotic short-haired and Himalayan kittens in cream and flame point, red, red/white, black/white and calico. Our cats/kittens are PKD/FeLV/FIV negative by DNA testing through UC Davis, vaccinated, wormed and have a health guarantee. We have many long-time references. Our cats are kept in pristine conditions with lots of attention. We are located in Colorado Springs and can fly, if need be, safely and gently across the U.S. Please go to our website's "contact page" and tell us a bit about yourself if you are interested in adopting one of our babies.amerikitties.com

We show our cats in CFA shows and breed for show standard. As well as the "show look" preferred, we also work to/and have kittens that exceed your expectations in that wonderful, sweet temperament expected from all Persians


Premium Member
~ Exquisitcats ~
Exquisitcats is a CFA registered cattery nestled in the foothills of Colorado. We have been breeding and showing silver persians as well as smoke persians for many years. Our kitties are considered family members and kittens are raised underfoot with love and attention allowing them to be excellent companions. Our kitties are health guaranteed.

~ Fabulous Persian ~
Fabulous is a small cageless Cattery in Colorado. I specialize in the beautiful silvers sometimes Tabby's. All our Kittens and Cats get to play in hole House. We breed for health and temperament as well as beauty.Fabulous pet kittens are placed in carefully selected forever homes. We ship but prefer to placed local.My goal in breeding and the Persians is to produce those that meet the standard of CFA. All kittens and adults are healthy, happy and well socialized. Our Bloodlines Sunnybeach Exquisitcats and Missionhill


Premium Member
~ Oakvillage Cattery ~
We breed for "type" and exceptional health. offering pet, show, and breeder quality Persians. CFA registered cattrey. We raise our kitties under foot in a family enviroment. All shots and deworming included. We can ship within the US and to most countries.

~ Salon de Chat ~
Salon de Chat is a CFA registered cattery. We have enjoyed breeding and showing Golden and Silver Persians since 1986. Approximately 4 yrs ago we also started a very small Silver Exotic program. Each kitten is placed with a contract and health guarantee. From time to time we also have neutered/spayed adult cats for placement in a loving pet home. Please visit our website and feel free to contact us with any questions you may have.


Premium Member
~ Angel's Joy Persian & Himalayan ~
GORGEOUS PERSIAN/HIMALAYAN KITTEN in Angel's Joy Cattery. We are small cageless CFA registered cattery located in central Nebraska. We specialize in breeding calico, bi-color, tabby Persian and Himalayan. Our cats and kitten all rasied in our home with indivdual love, attention and well socialized. All our breeders are Flv,Fiv,PDK negative, kittens are health gauranteed. Will ship in the Continental U.S. Come and see our gorgeous kittens we have avavilable. Visit our website for more info. Thanks.
Salon de Chat Persians and Exotics - Salon de Chat is a CFA registered cattery. We have been committed to producing the finest quality Golden and Silver Persians since 1986. Although we do love Silvers, Goldens are our passion.

Basic Member

Upgrade
Amerikitties Persians - Quality CFA Persians, Exotic short hair&Himalayans, PKD negative ,mostly red factor and very loved.

Basic Member

Upgrade
Katsational - Katsational Persians is CFA registered. Bicolors exclusively. PKD, FELV/FIV negative, fungus free cattery. Raised underfoot with love and attention.

Basic Member

Upgrade
Posh Persian - Posh Persian is a small family owned, CFA award winning Cattery. PKD tested negative.

Basic Member

Upgrade
Oakvillage Cattery - speacialize in Persians, solids, all tabbies.

Basic Member

Upgrade
Altaris - Altaris specializes in the elegant solid black persian. CFA award winning cats raised at home. PKD tested by DNA negative.

Basic Member

Upgrade