The EASY way to find a LOCAL Breeder!!!
.........(Breeders,

Join Persian Web Ring

and be FOUND)
Arizona
~ AgapePersian ~
Luxurious, Beautiful, Healthy, PEDIGREED PERSIAN's available exclusively from AgapePersian. AgapePersian is a registered CFA cattery. We are a very small closed Cattery. We breed Silvers, Goldens, Calico, Bi-Color, and Solid White Persians. We also breed rare colors: Dilute Calico, Chinchillas (Silver & Golden), BlueGoldens, and BlueSilvers. All of our kittens will make wonderful and loving PETS, some have SHOW POTENTIAL! We breed for personality & health, breed standards, and finally color. Our kittens and cats are loving, trusting, and very cuddly; raised by our hands. They are all little Purr-Boxes!! Persians are the most loving of cat breeds. We do sell BREEDERS. Please let me know your intent when you contact me: inquiring for pet, show, or breed kitten. We do ship anywhere you are!! One year HEALTH GUARANTEE, PKD NEG.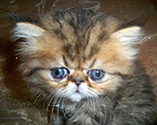 ~ OpalAnnies ~
OpalAnnies is a CFA registered cattery located in Phoenix, Arizona with over 15 years experience. We breed for health, personality, and breed standards, meaning the flat faces and sweet expresion. We are an FIV, FeLV, and DNA PKD negative cattery with Persians and Himalayans. Our kittens make wonderful pets and with some having breeding and show potential. All are animals are raised in our home as family members along side our children, grand children, and our other pets. They are handled, kissed, brushed, bathed, blowdried, eyes cleaned, nails clipped, etc. etc. by humans from the day they are born making them trusting and extremely lovable. They are provided with the best in nutrition, grooming and care.


Premium Member.
~ Precious Poms N Persians ~
We breed show quality extreme faced persians and also breed pomeranians. All of our cats have free roam of the house as pets shoud be. We have a varietey of colors like reds, black smoke, creams, Tortoiseshell,calico, whites, blue creams, Blues ad many others. We are a proud registered cattery with both CFA and ACFA. We breed thick full coats, high set noses and wonderfull temperments to show standards. We have several Champions is our Breeding Program that give us those wonderfulll qualitys we all love in Persians. Please feel free to look at our website or just email to say hello. thank you for considering one of our Persians.
PristineKatz - Specializing in Solids, Whites, & Bi-Color Healthy Persians for Show and Loving Pets.

Basic Member

Upgrade
LJolor - Persian, exotic, himmy in solid, chocolate, lilac, silver, bi-color, & parti-color. Genetic health guarantee.

Basic Member

Upgrade
Divine Katz Persians - CFA Registered DNA PKD FELV/FIV negative bicolor kittens and cats.

Basic Member

Upgrade