Facebook Cat -
NEW Cat Song Hit on iTunes
- Only $0.99

The EASY way to find a LOCAL Breeder!!!
.........(Breeders,

Join Persian Web Ring

and be FOUND)
Texas
~ Hobbit Tails Persian Cattery ~
Hobbit Tails is a small family owned cattery specializing in black smokes, blue smokes, cameo's and white kittens. Of course we always have a few bi-colors. Our cats are CFA registered and FIV/FELV and PKD negative. Our babies are socialized from the minute they are born and in layman terms that means spoiled. We believe that cleanliness and healthy grain free food, proper grooming, and regular health checks are vital to healthy cats. We also believe that getting them used to grooming, noises, people and other pets help them have a successful transition to their forever home.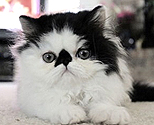 Platinum Member
.
~ PERSIANS & HIMALAYANS from STRONGHEART CATTERY ~
We are a small, family-owned cattery dedicated to producing healthy, well-socialized kittens. We take pride in breeding from distinguished show quality bloodlines. PKD Negative. Kittens have age-appropriate shots and are wormed before going to their new homes and come with a health guarantee. We are confident we will have the kitten of your dreams!





~ AgapePersian ~
Luxurious, Beautiful, Healthy, PEDIGREED PERSIAN's available exclusively from AgapePersian. AgapePersian is a registered CFA cattery. We are a very small closed Cattery. We breed Silvers, Goldens, Calico, Bi-Color, and Solid White Persians. We also breed rare colors: Dilute Calico, Chinchillas (Silver & Golden), BlueGoldens, and BlueSilvers. All of our kittens will make wonderful and loving PETS, some have SHOW POTENTIAL! We breed for personality & health, breed standards, and finally color. Our kittens and cats are loving, trusting, and very cuddly; raised by our hands. They are all little Purr-Boxes!! Persians are the most loving of cat breeds. We do sell BREEDERS. Please let me know your intent when you contact me: inquiring for pet, show, or breed kitten. We do ship anywhere you are!! One year HEALTH GUARANTEE, PKD NEG.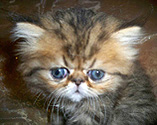 Platinum Member .
~ Furrbcats ~
We are a CFA PKD NEGATIVE Cattery of Excellence working with Top Quality Winning National and International Persian,Himalayan and Short Hair Exotic bloodlines. Our goal is to produce "Show Quality kittens" that meet and surpass the Persian Breed Standard and we do not intentionally breed to produce pet quality "Doll face" kittens. Our kittens are bred for Health, Temperament and Quality. The are raised in a home environment, hand fed and supplemented to develop a strong bond with their human care givers. Our babies are Sweet, Well Socialized and they will "LOVE YOU BACK!" OUR BABIES ARE PROVIDED WITH THE BEST NUTRITION, GROOMING AND HEALTH CARE. WE DO NOT CUT CORNERS!!!!! We Specialize in BLUE EYED WHITE PERSIANS that are sound of hearing, HIMALAYANS, BLUE EYED WHITE SHORT HAIR POINTED EXOTICS. In conjunction with COMPRI EXOTICS, we are Proud to Announce out first litters of BLUE EYED WHITE SHORT HAIR EXOTIC KITTENS. Our kittens come with a health guarantee, a USDA Health Certificate and are available to Pet and Show homes. Air transportation with Continental's Pet Safe Cargo available WORLD WIDE. If you are looking for a kitten with "QUALITY THAT SHOWS!" Then please contact me for more details and availability and please visit our website to meet our cats and kittens. Call Barbara: (386) 597-7455 or email: furrbcats@aol.com for more information. We hope to hear from you soon.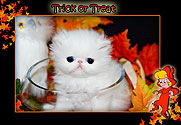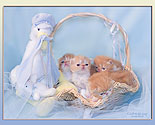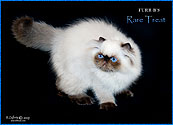 ~ Beljapur Cattery ~
We are a CFA registered, small family cattery specializing in pure Persian and Himalayan kittens. Our cats are PKD, FeLV, and FIV negative; from excellent pedigree lines Our kittens grow in a loving and caring environment. They roam free in our home; we are a cage-less cattery. Raised on high quality raw food and acana dry food. I breed once a year to raise quality well socialized babies. We have kittens for sale suitable as show quality as well as for breeding and as pets. Shipping is also available with united airlines for additional 350$. All babies come with age appropriate vaccine, dewormed, supplements and toy. Thanks for visiting my cattery.

~ Burton's Persians ~
Burton's Persians is a small cattery located in the Texas Hill Country. We raise Persians and Himalayans. Kittens are CFA and TICA registered. We strive to raise healthy, loving kittens that uphold the breed's standards. Our kittens are bred from titled show pedigrees.

~ Carrousel ~
We have beautiful, loving, free roaming, CFA Persian cats and kittens. Specializing in Shaded Silvers, and Whites

~ Kitten Candy Persians ~
We are a small home cattery located North of Houston. We are specializing in mainly whites and chocolates but do have reds and few other colors. We pride ourselves in our cage less home. We have a built a playroom specifically for our kittens. Each one is groomed and played with daily to provide ultimate socialization. Our mission is to provide you with the beautiful, loving kitten that you deserve while putting kitten mills out of business one kitten at a time. Our kittens come from our hearts to yours

~ Meow House ~
Welcome to meow house! We are a teeny tiny CFA cattery dedicated to bringing healthy, happy and sweet Persians and Himalayans to loving homes. Each kitten is kissed and loved to pieces and comes fully socialized. Our Moms and Dads are family, and live with us as pets. We specialize in all chocolates and lilacs of both Persians and Himmys, and we work with the best international blood lines of these colors. Our kittens are PKD/DNA negative and come with a two-year health guarantee. Please visit our website…don't forget to stop by the comments page…and see what all the furry fuss is about!

~ Perfect Cats - Himalayans ~
PERFECT CATS is a CFA APPROVED CATTERY OF EXCELLENCE. Offering adorable CFA registered Himalayan-Persian kittens from Grand Champion parents. We specialize in beautiful Show Quality and Moderate Faced kittens of all colors.They have tested negative for FIV, FELV, and PKD. We offer a 2 year health guarantee on all of our kittens. We have been vet inspected and approved. Our cats are our pets, and they and their kittens are allowed to run and play all over our home. Our kittens come pre-spoiled by us and our three boys. Check out our website and meet our beautiful kittens! Call Rebecca @ 512-864-4837

~ Raggamops Himalayans ~
Small Cfa/Tica Show Cattery devoted to Excellence! Luxurious, beautiful, and healthy Himalayan kittens bred for show or for loving pets. 100% Health Guaranteed. PKD negative by DNA. Most colors available including Lynx Points

~ TinyPersians ~
Silver Chinchilla, Shaded Silver, Shaded Golden, Golden, White CFA Persian kittens, small to standard, health warrantee FIV, FeLV, PKD, ringworm negative, ship Internationally, pet, breeders, ultra sweet, reputable Texas 100% Persians

~ She'gan Tail Persians ~
She'gan tail persians is located just north of Houston tx. We are a small cattery, and breed "Pure" persians only there are no CPCs, himalayans in our lines. our first , or fore most priority is to produce healthy , well adjusted out going, sweet kittens. We do breed for show quality, and kittens that meet the CFA standards. Our cats are out of regional,national,breed winning lines, and also many distinguished merits throughout our pedigrees. We hope you enjoy visiting our site, and please call or email with any questions.thank you, Shellie Johnson-Brown.

~ Steamboat Cattery ~
We are a small upscale CFA registered cattery offering CFA registered Persians/Himalayans. Our cats come from years of selective breeding, and we researched extensively before deciding to breed. Our kittens come from select lines of Grand Champion and Champion cats that come some of the most successful catteries in the US. We raise our kittens like family members in our household and they are well socialized. Now taking deposits on our latest litter.Also, check us out on Facebook at

facebook.com/steamboatcattery

for up to date pictures.

~ Sullivanblu Cattery ~
We are a small cattery located in Central Texas specializing in Persian and Himalayan kittens. We are animal lovers first, who believe in providing a warm and loving "first home" for all our kittens. Please contact us with any questions or to find out about available kittens.

~ Windysweptt Himalayans ~
Windysweptt is a small cattery specializing in Himalayan persians. Our bloodlines are multigenerational champions, grand champions, and international champions. Health guarantee, PKD, FIV, and FeLV negative cattery. Socialized, cuddly kittens available. Top show/breeder quality kittens for a very reasonable price.


Premium Member
~ Persians by Rhonda RB Cathouse ~
CFA Cattery of Excellence 2007, Home raised full of fun Baby Doll Persians. Most are lap kittens but not guaranteed to be. Handled and spoiled rotten before leaving at 10 weeks or so. Health Guarantee, ringworm, flea, felv, parasite, ear mites etc free. Parents have been PKD scanned or genetic tested Negative. Looking for loving homes for adults with habits & expectations available.
Burton's Persians - Beautiful CFA Persians raised in the Texas Hill Country.

Basic Member

Upgrade
Meow House Kittens - A CFA teeny tiny home cattery specializing in chocolate Persians and Himalayans dedicated to bringing bouncy, furry, healthy babies to loving homes.

Basic Member

Upgrade
Pampered Palace Persian Kittens - Producing Silver, Pointed, and Solid Colors. Proffesional and well maintained pampered kittens to enjoy for any lifestyle.

Basic Member

Upgrade
Catkisses Cattery - Persian and Exotics, whites, solids, bi-colors and tabby. Regional and National winning bloodlines.

Basic Member

Upgrade
Furry Heavens - Furry Heavens Cattery offers "high end" at an affordable price! Our Persian, Munchkin, Napoleon, and Lambkin Kittens make the perfect lap cat!

Basic Member

Upgrade
JAYRemington Persians - Bi-Colors Persians and Silver and Golden Persians.

Basic Member

Upgrade
Kittikamir Silver & Golden Persians - Specializing in silver & golden Persians for over 20 years. Our kittens come with a health guarantee. Located in TX near DFW airport.

Basic Member

Upgrade
Divine Katz Persians - We are a CFA registered cattery and strive to produce kittens for health, temperament & breed quality. We are proud to present gorgeous, happy, healthy and well adjusted kittens & cats.

Basic Member

Upgrade
Bijoux-Rouge Persians - Small Cattery located in Spring,TX. We focus on health,temperament, and beauty. All kittens raised in a loving, pet friendly environment.

Basic Member

Upgrade
Burton's Persians - We raise beautiful, healthy Persians and Himalyans in Central TX.

Basic Member

Upgrade
Beaukit - We have been breeding CFA Persians and Himalayans for over 20 yrs. We breed not only for beauty, but for health and temperament, also. Our kittens are raised under foot & pettted from birth.

Basic Member

Upgrade
Marshcove Persians - We are a small DNA PKD tested Persian Cattery. I specialize in breeding and showing quality Bi-color Persians. Our cats are registered and shown in CFA.

Basic Member

Upgrade
Isla Jewels Persians Himalayans - Quality Persian Himalayans. Lovable, huggable lap warmers!

Basic Member

Upgrade