Facebook Cat -
NEW Cat Song Hit on iTunes
- Only $0.99

The EASY way to find a LOCAL Breeder!!!
.........(Breeders,

Join Persian Web Ring

and be FOUND)
Ohio

Platinum Member
.
~ Linrenay Persians ~
We are a small C.F.A. registered mother and daughter home based "cage free" cattery. All of our breeders are tested P.K.D. and Felv/FIV negative. Our cats are from Grand Champion and Champion bloodlines. All of our babies are given lots of love and attention so that they will be loving members of your family. The colors that we produce are Whites,Silvers,Himalayans,Chocolates and Tortoiseshells. We have both extreme and doll faced babies. Please visit our site to learn more about us. Although we prefer that your baby be picked up, we do offer shipping within the Continental United States and Canada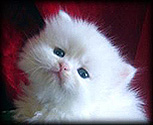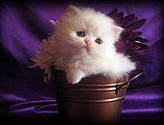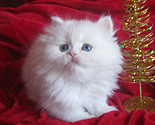 Premium Member
~ Choc-o-Lotta ~
Breeding premium chocolates and lilac in long and short coats.


Premium Member
~ DjaVuPurrs Cattery~
We are a small cageless Cattery registered with CFA/TICA, specializing in Chinchilla/Shaded Golden and Odd/Blue Eyed Bi-color in Exotic Shorthair and Persians with occasionally Color-points (Himalayan)..... We are working with some of the best lines that are PKD Tested Negative by DNA. Babies are raised underfoot in our home, treated as family members and sleeps in the bed with us. I do my best to provide my cats and kittens with the best life possible.

~ Pure Royalty Persians ~
This is the home of the most angelic and precious Chinchilla Silvers, Shaded Silvers, Golden Chinchilla, and Himalayan kittens you will ever lay your eyes upon. Specialize in the Shaded and Golden Silvers. We have Blue Points and Seal Points in our Himalayan Persians. Majority of our kittens are Doll Faced. We are a closed cattery, specializing in Persian and Himalayan kittens in Northeast Ohio and have been a CFA Registered Breeder. We are a PKD genetically tested Cattery with the documentation to prove it. We are FELV, FIV , and ringworm free. Our kittens will have the doll face and the classic Himalayan smoothie face. Kitten are able to leave the cattery at 10 weeks of age, and vet approved. No exceptions! We take pride in each and every kitten we raise. So their health and stability to be on their own is our #1 priority. Each kitten is properly De-Wormed and given their first round of vaccinations before going to their forever home. Our kittens are not and never will be caged. They are raised under foot within our family. They are held, played with, and socialized each and every day since they were born. This is all they have come to know. They will only go to homes that do not cage their pets. We offer shipping within the US continental. We ship within the US continental.

~ PURRSIANPALS ~
PURRSIANPALS is a small CFA registered cattery in North Central Ohio. I raise, breed, and show only 100% PURE PERSIANS. From the moment our kittens are born, they are pampered. Each and every kitten is loved and cuddled so they become well socialized, affectionate kittens. Each kitten receives one on one attention to help ensure an easy transition into their new loving homes after 16 weeks of age. While I have only been involved in Persians for a few years, I strive to maintain and exceed the standards set for this breed by the CFA. In my first year in showing CFA, I accomplished a GP, RW JUBILEUM'S COME ON ILENE. I am pleased to offer references upon request. Kittens are born to disease-free parents. Kittens are vet-examined, have age-appropriate shots, and come with a 1-year genetic health guarantee. We are a Feline Leukemia, FIV, Ringworm and PKD Negative Cattery. Will ship in the U.S.A. and overseas to certain Regions and only to Regions that require no quarantine
HimmiKatz - CFA Reg Cattery producing pet.breeder.& Show quality babies in traidional colors.

Basic Member

Upgrade
Gepurz Persians - Small Cattery CCA CFA registered.

Basic Member

Upgrade
Purrs R Us - Beautiful Persian Cats & Kittens.

Basic Member

Upgrade
Meadowpurrs Silver Persians - CFA Registered Silver Persians - PKD Negative - Health Guarantee.

Basic Member

Upgrade
Colbetz Himalayan Cattery - PKD negative CFA cattery.

Basic Member

Upgrade