Facebook Cat -
NEW Cat Song Hit on iTunes
- Only $0.99

The EASY way to find a LOCAL Breeder!!!
.........(Breeders,

Join Persian Web Ring

and be FOUND)
New York
New York Scratch Lottery Win $5,000 per week
Partner .
~ Treasured Kittens & CatsCreation ~
Teacup Persian Kittens for Sale, Breeders of the finest Doll Faced Persian Kittens found anywhere. Specializing in lovely Blue Eyed Whites and the famous Chinchilla Silvers. We use only the best blood lines to produce perfect kittens. We breed not only for stunning looks but also for health and temperament. Our cats and kittens are family raised never caged.
All of our kittens are fully guaranteed , PKD FELV/FIV neg and parasite free. They come with a health Certificate and a full veterinary exam. Standard shipping is available through United Pet Safe program as well as airport to airport hand delivery. Please call today for information on our beautiful little kittens.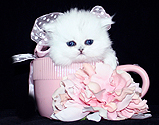 ~ AgapePersian ~
Luxurious, Beautiful, Healthy, PEDIGREED PERSIAN's available exclusively from AgapePersian. AgapePersian is a registered CFA cattery. We are a very small closed Cattery. We breed Silvers, Goldens, Calico, Bi-Color, and Solid White Persians. We also breed rare colors: Dilute Calico, Chinchillas (Silver & Golden), BlueGoldens, and BlueSilvers. All of our kittens will make wonderful and loving PETS, some have SHOW POTENTIAL! We breed for personality & health, breed standards, and finally color. Our kittens and cats are loving, trusting, and very cuddly; raised by our hands. They are all little Purr-Boxes!! Persians are the most loving of cat breeds. We do sell BREEDERS. Please let me know your intent when you contact me: inquiring for pet, show, or breed kitten. We do ship anywhere you are!! One year HEALTH GUARANTEE, PKD NEG.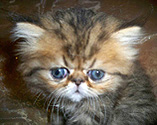 Platinum Member
~ Boutique Kittens ~
At Boutique Kittens, we have kittens for adoption, yet so much more. Our "Bou Babies" are a part of our family. We are dedicated to nurturing healthy, happy, and beautiful kittens, and preparing them to become a treasured member of your family.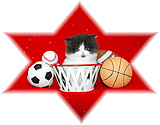 Platinum Member
~ Christypaw Persians ~
My babies are like the gorgeous kitty in the fancy feast commercials. You cannot find a more gorgeous, stunning kitty, they are simply breathtaking. I raise these adorable little babies in my home with my family and children. They are showered with love and have FANTASTIC personalities. They are used to a busy home and are very well adapted. We begin bathing and brushing our babies young so that our kittens are used to being groomed before they leave our home. My babies are spoiled rotten and are from champion and grandchampion lines. I am very particular about where I place my kittens so please tell me a bit about yourself when contacting me regarding my precious babies. I prefer my babies go to loving forever homes so they can be pampered the way they deserve to be. I can also answer a few questions ahead of time and let you know that my babies are used to children and LOVE them! They are well socialized, love to occupy your lap and are playful as well. CFA registered. My kittens come with current vaccinations, vet checked, a written health guarantee, and are Feline Leukemia, FIV, and PKD negative. Located near St. Louis, MO. Shipping available.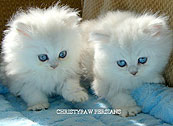 Platinum Member .
~ Furrbcats ~
We are a CFA PKD NEGATIVE Cattery of Excellence working with Top Quality Winning National and International Persian,Himalayan and Short Hair Exotic bloodlines. Our goal is to produce "Show Quality kittens" that meet and surpass the Persian Breed Standard and we do not intentionally breed to produce pet quality "Doll face" kittens. Our kittens are bred for Health, Temperament and Quality. The are raised in a home environment, hand fed and supplemented to develop a strong bond with their human care givers. Our babies are Sweet, Well Socialized and they will "LOVE YOU BACK!" OUR BABIES ARE PROVIDED WITH THE BEST NUTRITION, GROOMING AND HEALTH CARE. WE DO NOT CUT CORNERS!!!!! We Specialize in BLUE EYED WHITE PERSIANS that are sound of hearing, HIMALAYANS, BLUE EYED WHITE SHORT HAIR POINTED EXOTICS. In conjunction with COMPRI EXOTICS, we are Proud to Announce out first litters of BLUE EYED WHITE SHORT HAIR EXOTIC KITTENS. Our kittens come with a health guarantee, a USDA Health Certificate and are available to Pet and Show homes. Air transportation with Continental's Pet Safe Cargo available WORLD WIDE. If you are looking for a kitten with "QUALITY THAT SHOWS!" Then please contact me for more details and availability and please visit our website to meet our cats and kittens. Call Barbara: (386) 597-7455 or email: furrbcats@aol.com for more information. We hope to hear from you soon.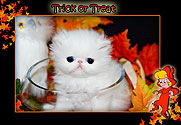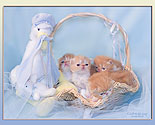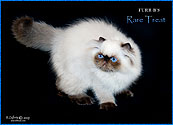 Platinum Member
.
~ Persian Kitten Empire ~
CFA Registered Pure Breed Persian and Himalayan Kittens with Pedigrees. NY, NJ, PA, CT.
Welcome to Persian Kitten Empire! We are dedicated to breeding happy, healthy, loveable Doll face Persian and Himalayan kittens. PKD negative. Feline leukemia negative. All cats/kittens are part of the family and are lovingly raised under foot. The kittens are well socialized and come with a health guarantee.





~ Simply Silver Persians ~
3 KITTENS REMAINING!! Simply Silver Persians specializes in the remarkable, beautiful Silver Shaded, and Silver Chinchilla Persians. Our breeder cats come from Champion L'Dearheart bloodlines. We are a hobby cattery located in Northern Indiana,45 minutes from Fort Wayne. Our passion is our persians and our ultimate goal is to find the best home for our kittens





~ Love Persians Cattery Long Island ~
Love Persians is a small in home CFA registered cattery located in Long Island. Love Persians kittens have a uniquely loving purrsonality that will warm your heart. Our genetically sound, healthy kittens are raised as part of our family and have the run of the house.
Our goal is to produce healthy, loving, well-socialized kittens. Each and every kitten is given individual attention which helps them build their own confident personalities.We produce only a few litters each year, and are selective in finding our kittens the best homes. We specialize in chinchilla silver and silver shaded Persians. We breed for health and temperament as well as beauty. Our cats come from well known Champion lines and we are a PKD, FELV/FIV tested negative cattery.
Love Persians kittens are prized for their elegant full coats, expressive faces, and gorgeous bright round green eyes. This ancient and regal breed is well-known as the most popular breed in the country. It is our hope that one of our kittens will become a loving addition to your home

~ Sharada ~
Hi! I'm Sharon owner of Sharada Persians...I would like to tell you something about myself and my Persians... I am a long time CFA Persian breeder and I love my cats! I breed for top quality Persians only! No doll face Persians here. Most of my cats are either CFA champions or CFA Grand champions. The colors I usually breed for are black, blue, tortie, blue cream, tabby, patched tabby and smoke. Sometimes Calico and bicolors. Shipping is available but mostly in the US or Canada and usually to breeders or pet buyers that want a high quality Persian. But both breeders and pet buyers are welcome to come see my available cats/kittens in my home.... Looking forward to meeting all of you!!! Call me at 516-764-7291 if you like. Sharon .

~ Sterlingpaws ~
Chinchilla Silver Persians Kittens. Health Certified/Clean/loving fluff-balls. Contact for more information if interested. Thank you.


Premium Member
~ KingdomKatz Persians & Himalayans ~
KingdomKatz is a small CFA Registered DNA PKD, FIV, FELV Negative Show Cattery whose primary focus is on raising Happy, Healthy, Quality Himalayan and Persian Kittens that meet the written CFA Standard for the breed. KingdomKatz Royal Kings and Queens are CFA Grand Championed and Championed Show Cats from GC and NW Blood lines. Our kittens are raised underfoot, equally loved and adored whether pet, breeder, or show quality, and well socialized by our children and ourselves. KingdomKatz Kittens are fully-vaccinated, vet-checked, 100% free of fungus and parasites, sold with a health guarantee and are either altered or placed with a spay/neuter agreement.


Premium Member
~ Persians by Rhonda RB Cathouse ~
CFA Cattery of Excellence 2007, Home raised full of fun Baby Doll Persians. Most are lap kittens but not guaranteed to be. Handled and spoiled rotten before leaving at 10 weeks or so. Health Guarantee, ringworm, flea, felv, parasite, ear mites etc free. Parents have been PKD scanned or genetic tested Negative. Looking for loving homes for adults with habits & expectations available.
Petmlkittens - Home breeder. CFA registered.

Basic Member

Upgrade
Ceili Persians - Small cageless cattery. CFA Persians from top show lines. Kittens reaised underfoot, available with shots, health guarantee, CFA Registration. Please view our webpage.

Basic Member

Upgrade
Sharada - Breeder of top quality Persians in many colors.

Basic Member

Upgrade
Champagne Kiss - 3 persian kittens for sale. Reasonable. CFA. Shots.

Basic Member

Upgrade
NY Mews - Beautiful CFA Registered Persians & Himalayans!

Basic Member

Upgrade
Flame Point Cat - Doll Face Himalayan Kittens (Flame & Cream Point), Pet Therapy Consultant, Health & Disposition Guarantee - over 1,000 photos.

Basic Member

Upgrade
Kasiakatz - CFA registered Persians and Himalayans in upstate New York. Red, black, blue, cream, tortoiseshell, blue cream Persians and seal, blue, flame. cream, torti and blue cream point Himalayans.

Basic Member

Upgrade
Champagne Kiss Cattery - We keep a small VERY clean Persian Cattery, CFA Register and PKD, FELV, FIV Negative, which we do keep our numbers at a minimum , we feel they should be our pets first and formost.

Basic Member

Upgrade
himalayan-kitten.com - Gorgeous Himalayan Kittens: Flame Point & Cream Point - Extremely friendly being part of a Pet Therapy Program. See 500+ photos on website!

Basic Member

Upgrade
Furry Dream - Persian, Himalayan, Chinchilla Kittens for Sale.

Basic Member

Upgrade
Madison's Doll Face Persians - Chinchilla and Shaded Silver Doll Face Persians.

Basic Member

Upgrade
Prints of Peace Persians & Himalayans - Gorgeous kittens bred from outstanding bloodlines in a SMOKE FREE environment. CFA registered. Bred with Integrity..Raised to Love!!

Basic Member

Upgrade
PersianArtistry - Pedigreed Persian Cats and kittens soon.

Basic Member

Upgrade
Sparklelight Himalayan Persians - Himalayan Persian kittens located in Upstate New York. CFA registered cattery. Kittens come with health certificate from the vet. We produce full coats and blue eyes. Raised in our home.

Basic Member

Upgrade
Long Island Purrsians - We can provide you with the kitty of your dreams we specialize in dollfaced Silvers, Chinchillas or Goldens you will be amazed how friendly social and loving your kitty is.

Basic Member

Upgrade
Love Persians - Love Persians is a small, selective in home CFA registered cattery specializing in top quality Persian and Himalayan kittens. Our goal is to raise genetically sound, healthy kittens.

Basic Member

Upgrade
Alyssia's Persian Dolls - CFA Registered pet quaity persian kittens for sale.

Basic Member

Upgrade