New Jersey
Partner .
~ Treasured Kittens & CatsCreation ~
Teacup Persian Kittens for Sale, Breeders of the finest Doll Faced Persian Kittens found anywhere. Specializing in lovely Blue Eyed Whites and the famous Chinchilla Silvers. We use only the best blood lines to produce perfect kittens. We breed not only for stunning looks but also for health and temperament. Our cats and kittens are family raised never caged.
All of our kittens are fully guaranteed , PKD FELV/FIV neg and parasite free. They come with a health Certificate and a full veterinary exam. Standard shipping is available through United Pet Safe program as well as airport to airport hand delivery. Please call today for information on our beautiful little kittens.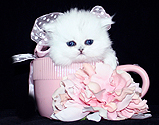 Platinum Member
.
~ Persian Kitten Empire ~
CFA Registered Pure Breed Persian and Himalayan Kittens with Pedigrees. NY, NJ, PA, CT.
Welcome to Persian Kitten Empire! We are dedicated to breeding happy, healthy, loveable Doll face Persian and Himalayan kittens. PKD negative. Feline leukemia negative. All cats/kittens are part of the family and are lovingly raised under foot. The kittens are well socialized and come with a health guarantee.






Premium Member
~ Sarasara ~
| | | |
| --- | --- | --- |
| | | Colonia, NJ, USA |
| | | Doris |
| | | 732-388-5024 |
| | | email |
Welcome to Sarasara Cattery. I am located in Central NJ breeding beautiful persian kittens for health & personality. Raised underfoot. Health guarantee & 100% ringworm free. Reasonably priced. NO SHIPPING.


Premium Member
~ Bradpurr Cattery ~
I have a small cattery in Tn where I have been breeding and showing cats for over 25 yrs. I breed not only for the show standard but also for personality and big wide open expression with those huge round eyes. For the kittens safety, they are caged until they are six weeks of age but thereafter are free to run the house at will. They are PKD negative and come with a health guarantee,all their shots and, in the case of pets, are spayed/neutered. My cats are from National winning lines that have allowed me to produce show winners for myself.So besides my darling pets, I have breeder and show kitty available too. I specialize in lynx points in the tortie, blue cream, seal and blue point patterns and will be adding flame pts in the near future. All of my cats are raised with attention to optimum nutrition in a chemical free environment and that makes for healthier, happier babies. Please stop by my website for information on how you can do this too, but to see more pictures of available cats.
Kitty Charm Persian, Himalayan & Exotic - Breeder of Persian, Exotic SH, & Himalayan since 1974, Home of many CFA National winners! Kittens for pet or show, most colors. E-mail: kittycharm1@aol.com for more info.

Basic Member

Upgrade
Chonilee - Persian and Exotic Shorthair. PKD neg. Bicolors.

Basic Member

Upgrade
CoCoCookie Cattery - Himalayans and Persian kittens, cageless cattery, raised like our children.

Basic Member

Upgrade
KaristaKats Cattery - KaristaKats is a CFA Cattery of Excellence breeding beautiful doll face Himalayans in a cagefree environment in Central New Jersey.

Basic Member

Upgrade
Mikkat Persians - Breeding solid persians.

Basic Member

Upgrade
BreezyBrook Cats - We are a small CFA registered, PKD free FELV/FIV negative cattery. Raising loving spoiled persian babies held and cherished from birth.

Basic Member

Upgrade
KaristaKats - CFA Cattery of Excellence breeding Himalayans since 2000. Dollface and Flatface all colors including rare Chocolate, Lilac and exotic Lynx Points. Located in NJ. FeLV/FIV, PKD neg. Health guarantee.

Basic Member

Upgrade