Facebook Cat - See Video Clip Here

The EASY way to find a LOCAL Breeder!!!
.........(Breeders,

Join Persian Web Ring

and be FOUND)
Florida
~ Belcherpurrs ~
We are a small Boutique Breeder with 4 Breeding Females at any one time specializing in Stunning SHOW QUALITY Bi-Color, Van Calico and Solid White Persian and Exotic. We breed for sweet open expressions for both Quality Show breeders and discerning families alike. Health focused with reliable references. PKD , FIP, FELUK/FIV RINGWORM Disease Free - NO Fleas/MITES -Health Guaranteed Via Written Contract- Current Vaccinations - State of Florida Health Certificate - Experienced Shipper. Please visit our website http://www.Belcherpurrs.com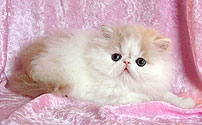 ~ Treasured Kittens & CatsCreation ~
Teacup Persian Kittens for Sale, Breeders of the finest Doll Faced Persian Kittens found anywhere. Specializing in lovely Blue Eyed Whites and the famous Chinchilla Silvers. We use only the best blood lines to produce perfect kittens. We breed not only for stunning looks but also for health and temperament. Our cats and kittens are family raised never caged.
All of our kittens are fully guaranteed , PKD FELV/FIV neg and parasite free. They come with a health Certificate and a full veterinary exam. Standard shipping is available through United Pet Safe program as well as airport to airport hand delivery. Please call today for information on our beautiful little kittens.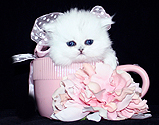 ~ PUR-SNICKITY CATTERY ~
Breeder of high quality bi-color Persians in West Palm Beach, Florida. I breed most colors, but specialize in calicos, dilute calicos, cream-whites, blue-white and brown classic tabby-whites. I have top grand champion/regional winning pedigrees in my cattery. All cats are well socialized and well cared for. I sell pet/breeder/show kittens throughout the year. Breeder/show kittens are sold with contract/co-ownership and pets are sold with a spay/neuter contract. Shipping is available through Continental Airlines. Photos and information can be found on my website: www.pursnickitycattery.com I also have a Florida permit to breed, so choose your kitten where you can buy with confidence. All kittens will be up-to-date with all vaccinations and wormings. Kittens will be sold with a CURRENT Florida health certificate. All my breeding cats are PKD NEGATIVE.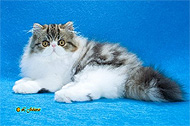 ~ Kismet Kittens ~
| | | |
| --- | --- | --- |
| | | Tampa, FL, USA |
| | | www.kismetkittens.com |
| | | Allana Myers |
| | | 813-409-8418 |
| | | email |
| | | Partner Page |
We breed beautiful persian kittens. Specailizing in Pashmina White with blue or green eyes, Silver Shaded, Golden Shaded, Calico, Bi colors. Extreme and Doll Faced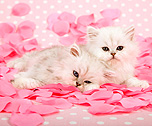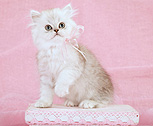 Platinum Member
~ Candifaces Persians ~
| | |
| --- | --- |
| . | |
We breed quality, healthy Persians, free of external parasites and diseases. Our Persians have the most sweetest faces around concentrating on big googly eyes, with short bodies, huge coats and tiny ears. We also provide tons of socialization for your baby so that you will have some of the sweetest persians around as an addition to your family. We mainly breed for top show Persians, but pets are available. Contact us today and you will be back only to want more! Be careful, we have been known to be addicting!






Platinum Member .
~ Furrbcats ~
We are a CFA PKD NEGATIVE Cattery of Excellence working with Top Quality Winning National and International Persian,Himalayan and Short Hair Exotic bloodlines. Our goal is to produce "Show Quality kittens" that meet and surpass the Persian Breed Standard and we do not intentionally breed to produce pet quality "Doll face" kittens. Our kittens are bred for Health, Temperament and Quality. The are raised in a home environment, hand fed and supplemented to develop a strong bond with their human care givers. Our babies are Sweet, Well Socialized and they will "LOVE YOU BACK!" OUR BABIES ARE PROVIDED WITH THE BEST NUTRITION, GROOMING AND HEALTH CARE. WE DO NOT CUT CORNERS!!!!! We Specialize in BLUE EYED WHITE PERSIANS that are sound of hearing, HIMALAYANS, BLUE EYED WHITE SHORT HAIR POINTED EXOTICS. In conjunction with COMPRI EXOTICS, we are Proud to Announce out first litters of BLUE EYED WHITE SHORT HAIR EXOTIC KITTENS. Our kittens come with a health guarantee, a USDA Health Certificate and are available to Pet and Show homes. Air transportation with Continental's Pet Safe Cargo available WORLD WIDE. If you are looking for a kitten with "QUALITY THAT SHOWS!" Then please contact me for more details and availability and please visit our website to meet our cats and kittens. Call Barbara: (386) 597-7455 or email: furrbcats@aol.com for more information. We hope to hear from you soon.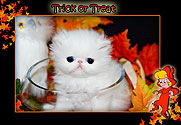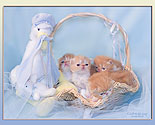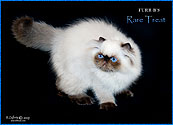 ~ AgapePersian ~
Luxurious, Beautiful, Healthy, PEDIGREED PERSIAN's available exclusively from AgapePersian. AgapePersian is a registered CFA cattery. We are a very small closed Cattery. We breed Silvers, Goldens, Calico, Bi-Color, and Solid White Persians. We also breed rare colors: Dilute Calico, Chinchillas (Silver & Golden), BlueGoldens, and BlueSilvers. All of our kittens will make wonderful and loving PETS, some have SHOW POTENTIAL! We breed for personality & health, breed standards, and finally color. Our kittens and cats are loving, trusting, and very cuddly; raised by our hands. They are all little Purr-Boxes!! Persians are the most loving of cat breeds. We do sell BREEDERS. Please let me know your intent when you contact me: inquiring for pet, show, or breed kitten. We do ship anywhere you are!! One year HEALTH GUARANTEE, PKD NEG.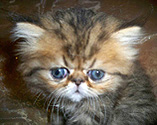 Platinum Member
~ Christypaw Persians ~
My babies are like the gorgeous kitty in the fancy feast commercials. You cannot find a more gorgeous, stunning kitty, they are simply breathtaking. I raise these adorable little babies in my home with my family and children. They are showered with love and have FANTASTIC personalities. They are used to a busy home and are very well adapted. We begin bathing and brushing our babies young so that our kittens are used to being groomed before they leave our home. My babies are spoiled rotten and are from champion and grandchampion lines. I am very particular about where I place my kittens so please tell me a bit about yourself when contacting me regarding my precious babies. I prefer my babies go to loving forever homes so they can be pampered the way they deserve to be. I can also answer a few questions ahead of time and let you know that my babies are used to children and LOVE them! They are well socialized, love to occupy your lap and are playful as well. CFA registered. My kittens come with current vaccinations, vet checked, a written health guarantee, and are Feline Leukemia, FIV, and PKD negative. Located near St. Louis, MO. Shipping available.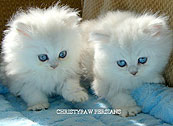 ~ White Magic Persians ~
QUALITY BLUE EYES PERSIANS KITTENS CFA REGISTERED, GREAT PEDIGREE AND HEALTH GURANTEE. RAISED IN MY BEDROOM AND VERY WELL SOCIALIZED WITH KIDS AND DOGS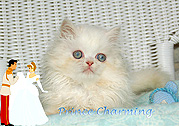 ~ Simply Silver Persians ~
3 KITTENS REMAINING!! Simply Silver Persians specializes in the remarkable, beautiful Silver Shaded, and Silver Chinchilla Persians. Our breeder cats come from Champion L'Dearheart bloodlines. We are a hobby cattery located in Northern Indiana,45 minutes from Fort Wayne. Our passion is our persians and our ultimate goal is to find the best home for our kittens






Premium Member
~ Aj's Kool Katz ~
Welcome! We are proud to introduce top of the line Persians and Himalayans. Our kittens are top quality, CFA registered, and raised in a home rather than a kitten mill. These babies are handled each and everyday so they are warm and loving. Our adorable kittens have unique beauty and a playful personality because of the nurturing environment they come from. We never declaw or cage our babies. We treat them as if they were our children. We are located in Florida but if you need your baby shipped, that can be arranged at anytime with Continental. We also accept Paypal, which is known to be the safest online cash transfer in America (safe for the customer and the seller). Go ahead, check out our website, and prepare to be in awe!

~ Beaubell Persians ~
CFA National award winning cattery. DNA PKD neg. Bonded world-wide shipper.


Premium Member
~ CatsCreation ~
CatsCreation is a Christian Cattery located in Central Florida, offering Doll Faced Persians for Sale. Free Little Luxury Kit with every Silver Persian Kitten Sale! We specialize in Chinchilla Silvers and White Persian kittens. Our kittens are small in size but big in personality and affection! CFA registered with Grand Champion blood lines, our line has stunning silky coats and intense eye-color. They come with emerald green and blue-green eyes. Never caged our babies are family raised underfoot, blood tested and come with a state health certificate, and a written health guarantee. We accept Pay-Pal, and shipping is available.


Premium Member
~ Disaronno-Persians ~
I am a small hobby breeder in Region 7. CFA registered. I breed pet, breeder and show quality persians of all colors. I do not have cpc or smoke in my lines. I have excellent pedigrees. My cats and kittens are healthy and have very sweet dispositions. I am FIV, FeLuk and PKD neg tested. No fleas, mites or fungus. Health guarantee offered. Experienced shipper.

~ Gems of the South Persians ~
Gems of the South Persians & Himalayans cattery was established in 2002. We are located in Northeast, Florida outside of Jacksonville. Each kitten is nurtured and cared for everyday to enhance their social skills and sweet personalities. All kittens are kept in the house & are never let outside. We are licensed and inspected by Florida Animal Control Services. All of our adult cats are registered with our county and are annually vaccinated. Each adult cat is current on their vaccinations and have rabies certificate tags as is required by the county.

Each kitten comes with a CFA registration papers. Each new kitten owner receives a veterinarian health certificate which includes your kitten's first shots, de-worm, fecal testing (to check for internal parasites), ear mite testings, FIV/FILV blood testing, and overall health exam to insure that the kittens are free of any external parasites or fungus. All tests must come back negative for a health certificate to be issued by a licensed veterinarian. We provide a one year genetic defect guarantee. Please see our sales contract for details. All of my kittens are litter box trained
and handled daily. **Please note that all kittens must be a minimum of 8 weeks and 1 day old to receive their health certificates as is
required by Florida State law. Kittens may not leave for their new home prior to receiving a health certificate

~ Glamorous Kitties ~
Glamorous Kitties specializes in Dollface Persians of all colors. We produce health, well rounded kittens being raised in a family environment. They come with a health guarantee. We are also a PKD, FIV, and Felv Negative Cattery.

~ Heavensentit ~
| | | |
| --- | --- | --- |
| | | Miami, FL, USA |
| | | Heavensentit.com |
| | | Margaret |
| | | 954-806-5079 |
| | | email |
Doll Face Persian Kittens for sale. Offering same of the finest quality Persian Kittens. Specializing in white, Chinchilla Silver, Golden, cream and Himalayan kittens. They are Grand Champion Bloodlines with the highest quality standart. Each kitten comes to you with blue CFA registration, Florida Healt Certificate, first shots, and litter box (Breeze system) trained.

~ LE PAW CHIC ~
WE ARE A SMALL CFA CATTERY LOCATED IN CLEARWATER FL. ALL KITTENS ARE CFA REGISTERED AND PKD NEGATIVE. OUR KITTENS ARE RAISED IN OUR HOME AND ARE NEVER CAGED. WE PRODUCE LOVING HEALTHY KITTENS. OUR CATS COME FROM CHAMPION BLOOD LINES. ALL KITTENS WILL COME WITH UP TO DATE VACCINES, VET CHECKED, AND A FLORIDA HEALTH CERTIFICATE. KITTENS ARE FIV/FELUK NEG AND ARE 100% FREE OF FUNGUS AND PARASITES. WE OFFER PET/BREEDER/ AND SHOW KITTENS. WE ACCEPT PAYPAL AND CASH.

~ Mikado ~
Persian Kittens by Mikado! Refined, Fluffy Persians with the Wow Factor! All of our kittens are raised with Love, TLC and lots of affection. Kid-friendly! Lovely to look at and purrfectly sweet. All kittens come with shots, wormings, a Liscensed Veterinary Health Certificate and their little WOW Goodie Bag, in pink or blue. We are a small cattery, which enables us to give our kittens- and buyers- plenty of attention. Located in central Florida, but will be happy to deliver. Check our website regularly for new litters

~ My Bluestars ~
We are small home breeders committed to produce healthy and happy kittens. If you're looking for a kitten to be your loyal pet and companion and be part of your family for many years, you need to contact us. We are responsible breeders so we have Purebred only with CFA registration papers. Of course, we still want to help protect the pet population so we do not give breeding rights and strongly suggest to have your pet spayed or neutered. All our kittens are getting their first vaccines at our long time family vet, they are also microchip, dewormed and have their State of Florida mandatory vet certificate. We do our best to keep kittens socialized with dogs and other cats but they still love getting visitors so you are always welcome to come and visit your new family member when we are available till they are 8 weeks of age and ready to go to their new home. All kittens are tested for Feline Leukemia and FIV.

~ O'Neills Twilight Persians ~
O'Neills Twilight Persians Is a Family Cattery, We Are Reg. CFA ,Our Kittens/Cats are Raised Underfoot and Cage Free. We specialize in Doll Faced But do often have Peke/Extremes .We Offer A variety Of colors From Smoke/Shaded/Cameo To Solids/Van/Bi Color.
Not Only are Our Kittens Top of the line but Our Kittens Are well socialized With Adults ,Children, Cats, and dogs From Birth. Our Kittens are raised with lots of love and attention. If your Interested in Very Spoiled Precious Kittens Please Check out O'Neills Twilight Persians

~ Precious Gems Persians ~
AD UPDATED 8/16/14) PRECIOUS GEMS PERSIANS HAS 3 AVAILABLE KITTENS. 1 FEMALE IS A CHINCHILLA BABY DOLL PERSIAN NAMED ELSE. SHE WAS BORN ON 7/9/14 AND WILL BE ABLE TO LEAVE FOR HER NEW HOME IN 4-7 WEEKS DEPENDING ON IF SHE IS GOING TO A LOCAL FAMILY OR HAVING TO BE DELIVERED OUT OF STATE. THE OTHER 2 KITTENS ARE 1 FEMALE AND 1 MALE. THEY ARE GOLDEN SHADED BABY DOLL PERSIANS. THEY WERE BORN ON 7/25/14 AND WON'T BE READY TO LEAVE US FOR 6-9 WEEKS. THEIR NAMES ARE CATLIN AND FLUFFER. Before our kittens leave us, they will have A health check by a board certified veterinarian, 1-2 sets of shots, fecal testing, 2 wormings, micro chipping (if requested), registered with the CFA, and a 1 year health guarantee. Our kittens are fed only the best safe brands of kitten food. They will also receive Nu-Vet Vitamins each day. We use disinfectant cleaner that is specially ordered. It is completely safe to pets/children. Each kitten is handled daily, and groomed regularly so that they will be socialized and also used to being handled. Each new owner will receive a deluxe kitten package. It will contain all of their care instructions (that we will go over together before the kitten leaves our care), registration paper, micro chip registration for 1 year, contract, kitten cuddle blanket with matching cuddle kitten toy, other toys, food samples/food bowls,vitamin samples, and a CD of all their weeks pictures. We update our pictures about every 3 weeks. The asking price for our chinchilla kittens is $1000. We require a $400 deposit to hold a kitten. Then, the outstanding balance will be due at least 1 week before shipping, or at the time of pickup. There is an extra $500 fee for kittens that will be future breeders. We accept money orders, cashiers checks, and cash when picking up your kitten in person. IF ANYTHING UNFORTUNATE WERE TO HAPPEN TO YOU KITTEN BEFORE THEY LEAVE OUR CARE, WE WILL REFUND YOUR DEPOSIT IN FULL TO YOU RIGHT AWAY! We ship our kittens via Continental Airlines Pets Safe. We've been using them for 10 years with zero incidences of neglect, injury, or lasting emotional effects. Our shipping cost is $230 and is the new owners responsibility. We make all the arrangements from our end. We would love for you to go onto our website at www.preciousgemspersians.com. and read about us, as well as see our available kittens. We are still adding new pictures of our Queens and Kings, so please check on our website from time to time for updates! :-) WE CAN ALSO SEND YOU EXTRA PICTURES OF ANY KITTENS THAT YOU ARE INTERESTED IN. WE TAKE NEW PICS OF OUR KTTENS EVERY 10-12 DAYS AND EMAIL THEM TO YOU WITH AN UPDATE OF HOW YOUR KITTEN IS PROGRESSING. YOU ARE WELCOME TO CONTACT US ANYTIME TO INQUIRE FOR AN UPDATE AND WE WILL BE AVAILABLE FOR QUESTIONS OR CONCERNS EVEN AFTER YOUR KITTEN LEAVES OUR CARE. Please feel free to call us or email us with any questions that you may have. Our main phone number is 941-249-4119. You can also email us directly at preciousgemspersians 2012@yahoo.com. Precious Gems Persians strives to bring you a healthy, adorable, fluffy, and entertaining little miracle lap cat companion that you've been searching for. We promise to make this an exciting and memorable experience for you!.

~ Purr Kitty Cattery ~
We are a CFA registered, small family cattery specializing in pure Persian bi-color and solid kittens. Our cats are PKD, FeLV, and FIV negative; from excellent pedigree lines from around the world. Our kittens grow in a loving and caring environment. They roam free in our home; we are a cage-less cattery. They are well socialize and have the sweet temperaments that Persians are so well known for. We have kittens for sale suitable as show quality as well as for breeding and as pets. Our cats don't have CPC; they are not mixed with Himalayan nor exotic. They are pure Persian. We have carefully selected our foundation cats for their coat, big eyes, little ears, top round heads, coby bodies, and great pedigrees.

~ Springstails Persian & Exotics ~
Raising Persian and Exotic kittens to CFA standard. Home raised sweet, playful, and affectionate kittens available. From very prestigious award winning pedigrees and PKD negative lines. Raised in a active loving home with much love and well socialized. Kittens come with health guarantee, pet contract, are feline luke/aid negative, up to date vaccinations, de-worming, flea/tick prevention, up to date health certificate and transitional food.


Premium Member
~ Tranquility ~
Himalayan and Persian kittens. Grand Champion line. CFA Registered. PKD negative All shots. Sociable and cuddly. Show, breeder, pet.

~ Winnplacecattery.com ~
Winnplace Cattery sells Show, Breeder and Pet quality Himalayan cats and kittens. It is a CFA and TICA registered cattery. All cats and kittens are PKD. FeLV, and FIV negative and come with a health certificate. The kittens are bred for health, beauty and personality.
BooKats Cattery - BooKats (CFA registered) produces silver and golden Persian kittens. All of our cats are a part of the family and are lovingly raised under foot. The kittens are well socialized and come with a he

Basic Member

Upgrade
Vanleigh Persians - Beautifull silver persians, smokes, solid blacks

Basic Member

Upgrade
Aristokitty Persians and Himalayans - Breeding special Persian kittens for special families

Basic Member

Upgrade
Tranquility - I have show, breeder and pet himalayan and tabby persian kittens available to loving homes. All breeding stock is PKD Neg.

Basic Member

Upgrade
CatsCreation - Doll Faced Persian Kittens for sale

Basic Member

Upgrade
BelCats Persians - Smoke and tabby Persians, sometimes solids & bicolors.

Basic Member

Upgrade
Pawpetals Cattery - Specializing in White and Silver Chinchilla Persians.

Basic Member

Upgrade
Liz Top Cat - Himalayan & Persian, Top quality, Champion lines, Sweet & Fluffy kittens, All colors, including Chocolates, Calicos and Bi-Colors. All kittens are home raised in a very clean home.

Basic Member

Upgrade
Candifaces Persian Cattery - We specialize in healthy FIP, FIV, Fungus and Parasite free cattery. We breed top show quality cats in Bicolor, Calico and Van. Sometimes pets are available. We ship safely worldwide.

Basic Member

Upgrade
Springstails - Persians kittens of all three varieties including Exotics and Himalayans.

Basic Member

Upgrade
Hevenlisent - Persian Kittens.

Basic Member

Upgrade
Paw Petals - Persian Kittens.

Basic Member

Upgrade
Crystal Ice - Persian Kittens.

Basic Member

Upgrade
KocaKola Persian Kittens - CFA DOLL FACE Kittens, RARE Shaded Silver and Chocolates. Loving cageless cattery!! XOXO.

Basic Member

Upgrade
Beaubell - National Winning Cattery. DNA PKD Neg. Tabby, Bicolor, Solids.

Basic Member

Upgrade
Little Paws Cattery -Breeder of quality Persian, Himalayan and Ragdoll kittens as well as occasional Munchkin/Napoleon kittens

Basic Member

Upgrade
Swarovski - CFA Registered cattery specializing in lynx point himalayans & silver tabby persians. *PKD Negative * Excellent Pedigrees.

Basic Member

Upgrade
Purrple Lace Persians & Himalayans - We are a small cattery in north east Florida focusing on Persians and Himalayans. All are raised in our home and given lots of love and attention. All kittens are vet checked.

Basic Member

Upgrade
Winnplace Cattery - Winnplace Cattery is a small cattery that breeds quality Himalayan kittens of all colors for show, breeding and lovable pets.

Basic Member

Upgrade
CLASSY KATZ - CFA registered Persian kittens, guaranteed healthy and happy! NO cpc in lines and raising both show/breeder and pet quality.

Basic Member

Upgrade
Liz's Top Cat - Persian and Himalayan CFA Sweet & Fluffy kittens, all colors. Home raised.

Basic Member

Upgrade
O'Neill Twilight Persians - Breeding Top of the line Micro Persians.

Basic Member

Upgrade
Sweet Pea Kitties - Fine Breeder of Doll Face Persian Kittens and the amazing Sweet Pea Rug Hugger.

Basic Member

Upgrade
Majestat Persians - small hobby breeder CFA registered Cattery Just North of Tampa Fl. I have pet, breeder and show quality kittens available occasionally.

Basic Member

Upgrade
Shaded-Paws Cattery - Silver & Golden Persians. CFA Reg. Palm Beach County, FL.

Basic Member

Upgrade
Escolastica Persians - I breed healthy playful persian kittens. DNA PKD tested, Vet Certified cageless cattery.

Basic Member

Upgrade
Persian kittens All Colors Extreme & Doll Face - Pashminas, Silver Shaded, Golden Shaded, all colors.

Basic Member

Upgrade