Facebook Cat -
NEW Cat Song Hit on iTunes
- Only $0.99

The EASY way to find a LOCAL Breeder!!!
.........(Breeders,

Join Persian Web Ring

and be FOUND)
California
~ AgapePersian ~
LUXURIOUS, BEAUTIFUL, HEALTHY, PEDIGREED PERSIAN's Available!!!​ My name is Nina Papageorge's, I run a small closed Cattery. My specialties are Silvers & Goldens, and Bi-Colors & Calico's. I also breed THE BLUES: Dilute Calicos, BlueGoldens, & BlueSilvers. We occasionally have Smokes & recently CHOCOLATE'S!! Our kittens are loving, trusting, and very cuddly; raised in our hands and in our hearts. Persians are the most loving of breeds. Quiet and calm, with HUGE ROUND eyes, my cats follow me around the house! Persians are the breed to get - if you want a VERY LOVING pet. It is easy to see why they are the most popular cat --IN THE WORLD!! They are Stunningly Beautiful!! ​All of our kittens will make wonderful and loving PETS. All kittens are handled, loved and played with DAILY! We pride ourselves on having the BEST SOCIALIZED CATS IN THE WORLD!! Many of our cats have SHOW POTENTIAL!! We do sell BREEDERS, to registered CFA Catteries only. Please let me know your intent when you contact me: inquiring for a pet, or show, and/or breed kitten (requiring Full Registration). I am very lucky to be working with GRAND Champion, RW, DM, and Champion Lines from Stardazl, Kissables, Rhamjoge, Tinjers, and Sharada Persian Catteries. All kittens and cats are in the BEST of health, and come with a written ONE YEAR Health Guarantee against genetic defects. I care very much about each kittens placement. Kittens have their shots, and you will receive a vet release prior to shipping. My kittens are raised in a loving family environment, are handled daily, and unafraid of dogs. They are EXCEPTIONALLY well socialized (to small-medium dog's), weened, and litter box trained. AgapePersian is a registered CFA cattery. A PKD Negative (per UC Davis genetic testing), FELV, and FIP Negative Cattery. At AGAPE PERSIAN. . . QUALITY IS NO ACCIDENT. . . .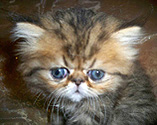 Partner .
~ Treasured Kittens & CatsCreation ~
Teacup Persian Kittens for Sale, Breeders of the finest Doll Faced Persian Kittens found anywhere. Specializing in lovely Blue Eyed Whites and the famous Chinchilla Silvers. We use only the best blood lines to produce perfect kittens. We breed not only for stunning looks but also for health and temperament. Our cats and kittens are family raised never caged.
All of our kittens are fully guaranteed , PKD FELV/FIV neg and parasite free. They come with a health Certificate and a full veterinary exam. Standard shipping is available through United Pet Safe program as well as airport to airport hand delivery. Please call today for information on our beautiful little kittens.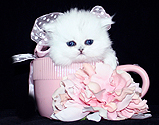 ~ DAZZLE-M PERSIANS & EXOTICS ~
We are a small cattery located in Sacramento, CA breeding and showing exclusively Silver & Golden Persians and Exotics since 1994. My goal is to produce healthy well socialized cats that equal & exceed the Persian & Exotic CFA standard, and to preserve the Silver & Golden coat color, eye color and type. Each Persian & Exotic that I include in my breeding program has been selected based on their personalities as well as their show pedigrees. Our cats are NOT caged, they are our loving companions and are kept in the highest standard of cleanliness.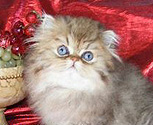 Platinum Member
~ KATZINO PERSIANS ~
AVAILABLE KITTENS KATZINO PERSIANS is a small CFA registered cattery in Central California. I specialize in the beautiful and stunning WHITES. Both blue eye and copper eye. I do have occasional solids, particulars and bicolor. My goal in breeding and showing the Persians is to produce those that meet the standard of CFA. All kittens and adults are healthy, happy and well socialized. Shipping and health guarantees are provided. Feel free to contact at: katzinokats@starstream.net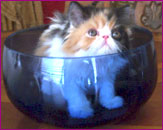 ~ N.V.P. ~
We area a small cage-less Cattery located in the beautiful Napa Valley. My name is Gina Imrie and it is my pleasure to provide my clients with healthy beautiful kittens with great personalities. Our kittens are raised in our family home and birthed in my bedroom. They are handled and loved from an day one to ensure they will be lovable companions. Great care is taken to ensure proper nutrition and good health. Our kittens come from champion and grand champion lines are PKD-free and FELV-neg and come with a one year genetic health guarantee. Pets bring such love, joy and companionship to our lives. It is my joy and pleasure to raise healthy beautiful kittens full of personality that will bring love, joy and companionship to their new family's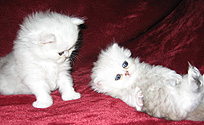 Platinum Member
~ Boutique Kittens ~
At Boutique Kittens, we have kittens for adoption, yet so much more. Our "Bou Babies" are a part of our family. We are dedicated to nurturing healthy, happy, and beautiful kittens, and preparing them to become a treasured member of your family.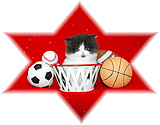 Platinum Member
~ Christypaw Persians ~
My babies are like the gorgeous kitty in the fancy feast commercials. You cannot find a more gorgeous, stunning kitty, they are simply breathtaking. I raise these adorable little babies in my home with my family and children. They are showered with love and have FANTASTIC personalities. They are used to a busy home and are very well adapted. We begin bathing and brushing our babies young so that our kittens are used to being groomed before they leave our home. My babies are spoiled rotten and are from champion and grandchampion lines. I am very particular about where I place my kittens so please tell me a bit about yourself when contacting me regarding my precious babies. I prefer my babies go to loving forever homes so they can be pampered the way they deserve to be. I can also answer a few questions ahead of time and let you know that my babies are used to children and LOVE them! They are well socialized, love to occupy your lap and are playful as well. CFA registered. My kittens come with current vaccinations, vet checked, a written health guarantee, and are Feline Leukemia, FIV, and PKD negative. Located near St. Louis, MO. Shipping available.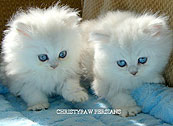 Platinum Member .
~ Furrbcats ~
We are a CFA PKD NEGATIVE Cattery of Excellence working with Top Quality Winning National and International Persian,Himalayan and Short Hair Exotic bloodlines. Our goal is to produce "Show Quality kittens" that meet and surpass the Persian Breed Standard and we do not intentionally breed to produce pet quality "Doll face" kittens. Our kittens are bred for Health, Temperament and Quality. The are raised in a home environment, hand fed and supplemented to develop a strong bond with their human care givers. Our babies are Sweet, Well Socialized and they will "LOVE YOU BACK!" OUR BABIES ARE PROVIDED WITH THE BEST NUTRITION, GROOMING AND HEALTH CARE. WE DO NOT CUT CORNERS!!!!! We Specialize in BLUE EYED WHITE PERSIANS that are sound of hearing, HIMALAYANS, BLUE EYED WHITE SHORT HAIR POINTED EXOTICS. In conjunction with COMPRI EXOTICS, we are Proud to Announce out first litters of BLUE EYED WHITE SHORT HAIR EXOTIC KITTENS. Our kittens come with a health guarantee, a USDA Health Certificate and are available to Pet and Show homes. Air transportation with Continental's Pet Safe Cargo available WORLD WIDE. If you are looking for a kitten with "QUALITY THAT SHOWS!" Then please contact me for more details and availability and please visit our website to meet our cats and kittens. Call Barbara: (386) 597-7455 or email: furrbcats@aol.com for more information. We hope to hear from you soon.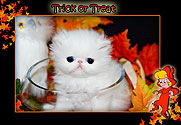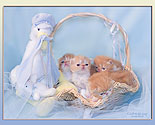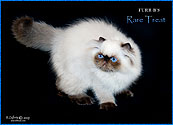 ~ Simply Silver Persians ~
3 KITTENS REMAINING!! Simply Silver Persians specializes in the remarkable, beautiful Silver Shaded, and Silver Chinchilla Persians. Our breeder cats come from Champion L'Dearheart bloodlines. We are a hobby cattery located in Northern Indiana,45 minutes from Fort Wayne. Our passion is our persians and our ultimate goal is to find the best home for our kittens





~ A Love4paws ~

Small in home cattery specializing in colorpoints, all colors, including chocolates and lilacs. Our cats and kittens are bred from Grand Champion lines. Our kittens have the run of our home and are raised with lots of love. PKD negative.

~ Catinallity ~
You're invited! Come and see all the gorgeous kittens we have available! All colors, even beautiful chocolates and lilacs, both in solid and pointed version. We strive to produce the very best we can and never let a kitten go unless it is 100% perfection in our estimation. Personality has always been a priority here. Your kitten comes to you fully socialized, litter trained, first vaccines onboard, and a written health guarantee to assure many years of loving companionship. Come visit the website and be sure to check out how we are doing on the comments page.

~ Kelskits Silver & Golden Cattery ~
We are a small cattery focusing on health first, personality second and physical appearance third. It is extremely important to have a healthy well adjusted cat with the beauty Persians are well known for. My adventure into the breeding process has opened a door in which there are many important issues involved. I understand that I have an ethical responsibility to not only provide healthy cats but to work on placing them in forever homes and not add to the unwanted high population of pets in shelters and rescues. It is a priority for me to help a prospective pet parent get educated in the care and health issues of a Persian cat. All my sires and dams are tested negative for PKD, FeLV, FIV, PCR tested, fecal cultured and I research the previous lines to perform additional testing as needed. During college I was employed in California and Florida as an A.H.T. (Animal Health Technician) and have an understanding of several health issues. My relationship with several D.V.M.'s allows me to learn more every day and provide excellent medical care for my furry friends. I will work on finding the answer to any question you may have. Recently, our cattery was filmed by Animal Planet for an episode of "Too Cute". The parents of the three kittens are CH Cherrybirdie Hercules of Kelskits and CH Kelskits Punki. The airing date is April 5, 2014 @ 8:00pm pst and titled Musical Kittens. Animal Planet renamed my cats. Hercules AKA King Tut and Punki AKA Mercedes. Two of the kittens turned into girls and were named Lily and Rose. Stanley was named Prince

~ Kitty A La Mode Persians and Exotics ~
Kitty A La Mode is a friendly, in-home cattery located in sunny southern California. With top-quality bloodlines, our kittens are CFA-registered, and most have show potential. We surround our kittens with love and nurture their unique personalities from the moment they are born. We also place a special emphasis on health. Each kitten is sold with a six-month health guarantee. They will be up to date on shots when they are ready to go home with you at around six to eight weeks old. We are also willing to ship our kitties nationwide to the right home. Though we only produce a handful of litters in a year, we often get many different colors. From solids to bi-colors, shadeds to smokes, dilutes to chinchillas, we offer several colors to choose from. Visit our website to get a better feel for what our cattery is all about and find the purrfect persian for you!

~ Muffhyms Cattery ~
Persian and Himalayan kittens on Sale NOW. Currently discounted. PKD neg, FLV tested, shots,wormed,vet ck,FULL HEALTH GUARANTEE. Socialized with Children and Large Dogs. Kittens available almost all year. Accepting deposits for purchase and waiting list.Lots of colors to choose from. Seal Pt,Blue Pt,Blk/Whte,Flame Pt, blue creme, etc. Call Now 949-233-3433 and see web at muffhymscattery.com. Thank you


Premium Member
~ Puffy Persian Kittens ~
Puffy Persian Kittens of Northern California is home to the most cute and cuddly Persian kittens available. With fur softer than cashmere and sweet teddy bear personalities, Puffy Persian Kittens offers you the Persian kitten of your dreams. We offer completely purebred Persian kittens in both doll and flat faced varieties. Most colors are available including pure white, cream, shaded silver, smoke, Himalayan, and many more. Our kittens are bred for health, beauty, and great kitty personalities. All of our babies are raised in a loving family environment - with no cages. Our kittens are great with children and dogs. All of our Persians come with a personalized three generation pedigree, free kitten care package, complete vaccination records, a one year health guarantee and are health certified by a licensed veterinarian. All are cats are PKD and Feline Leukemia free. Shipment and delivery available.

~ Shadowoak ~
We breed bicolor and white Persians. All cats in my program are tested for HCM, FIV, FELV, PKD and we have a ringworm free cattery. We work very closely with our vet to produce healthy and happy kitties. We enjoy showing our pretty cats and we have been raising Persians for 27 years.

~ Silver Estate Persians ~
I've been breeding silver persians for 23 years now and still have the passion and love for my silvers only. I've occasionally had a few goldens, and know for breeding chinchilla silvers. I am a small cageless breeder and do not have many kittens each year. This way when I do have babies, I spend lots of time handling and loving them up so they will go to there new homes being very social. I show in CFA and have had many grand champions,regional wins,National Breed Winners and CFA's 9th Distinguished Merit Shaded Silver Persian. I enjoy the shows to achieve show quality, but never want to loose the sweet "Doll Face" Green Eyes,that everyone fell in love with. I like meeting everyone who gets a kitten from me in person if I can. Each kitten is part of my family and finding them a new home is like an adoption. My cats are all my family and a labor of love. Please feel free to visit my website and know that you are always welcome at Silver Estate Persians.

~ Sugar Paws ~
When only the best will do, look no further. All our kittens are hand raised, well socialized and come from a clean loving home environment. Our kittens are bred for healthiness and darling personality. We offer health guarantees on all of our kittens. All our cats purr on contact and are looking for a loving, forever home with you.

~ Wyndcreste Silver Persians ~
Established in 1991, Wyndcreste Persians are known worldwide for their exquisite beauty and sweet temperaments. Wyndcreste is the home of numerous Grand Champions and winner of the coveted title Distinguished Merit. We have only a few kittens each year (we are not a commercial enterprise) and each one of our babies is given an enormous amount of love and attention. Please contact us for availability. Adults are available occasionally. The health of the kitten or cat and your happiness is guaranteed. Wyndcreste Persians has DNA tested NEGATIVE for all currently tested genetic disease markers: BLDAB, MYBCP3R, MPS1, PKD, MPSM and MYBPC3M.


Premium Member
~ Angel's Joy Persian & Himalayan ~
GORGEOUS PERSIAN/HIMALAYAN KITTEN in Angel's Joy Cattery. We are small cageless CFA registered cattery located in central Nebraska. We specialize in breeding calico, bi-color, tabby Persian and Himalayan. Our cats and kitten all rasied in our home with indivdual love, attention and well socialized. All our breeders are Flv,Fiv,PDK negative, kittens are health gauranteed. Will ship in the Continental U.S. Come and see our gorgeous kittens we have avavilable. Visit our website for more info. Thanks.


Premium Member
~ Glamorous Kitties ~
Glamorous Kitties specializes in Dollface Persians of all colors. We produce health, well rounded kittens being raised in a family environment. They come with a health guarantee. We are also a PKD, FIV, and Felv Negative Cattery.


Premium Member
~ KingdomKatz Persians & Himalayans ~
KingdomKatz is a small CFA Registered DNA PKD, FIV, FELV Negative Show Cattery whose primary focus is on raising Happy, Healthy, Quality Himalayan and Persian Kittens that meet the written CFA Standard for the breed. KingdomKatz Royal Kings and Queens are CFA Grand Championed and Championed Show Cats from GC and NW Blood lines. Our kittens are raised underfoot, equally loved and adored whether pet, breeder, or show quality, and well socialized by our children and ourselves. KingdomKatz Kittens are fully-vaccinated, vet-checked, 100% free of fungus and parasites, sold with a health guarantee and are either altered or placed with a spay/neuter agreement.


Premium Member
~ Mt. Baker Exotics and Persians ~
We are a small PKD negative cageless cattery located in the Pacific Northwest. We are into breeding exotics and persians in the bi-colors, tabbies and the reds. We breed for quality not quanity. Our babies grow up right with us underfoot and with 2 special housedogs. This is a hobby for us and also showing our cats. We are both retired and home all day long with our kitties so they never go without. We will ship out kittens to very special homes where they will not be living in cages, PLease contact us if might be interested in a spoiled baby.


Premium Member
~ Persians by Rhonda RB Cathouse ~
CFA Cattery of Excellence 2007, Home raised full of fun Baby Doll Persians. Most are lap kittens but not guaranteed to be. Handled and spoiled rotten before leaving at 10 weeks or so. Health Guarantee, ringworm, flea, felv, parasite, ear mites etc free. Parents have been PKD scanned or genetic tested Negative. Looking for loving homes for adults with habits & expectations available.


Premium Member
~ Purr-Fect Angels Boutique ~
We are a tiny cage free cattery nestled in the country, looking out at the beautiful Front Range in Colorado. Our Cats, Kittens, Golden Retrievers and Horses, own the house and they let us live here so my husband and I can take care of them. We put all our effort to bring into this world healthy, happy "Angel Babies". Our cats and kitens share our home with our Golden Retrievers. We are a member of CFA, and TICA. And abide by the associations strict standards.
Epuffany Persians - Persian Kittens in So. Calif. Himalyans, Bi-colors, Tabbies and working on Chocolates in those colors. Health guaranteed. Sweet personalities.

Basic Member

Upgrade
PurryPirates - Persian/Himalayan kittens, CFA reg cattery.

Basic Member

Upgrade
Topcattery Persians - Persians for show, breeding, health guarantee.

Basic Member Upgrade
LA CIARA PERSIANS - SOLID WHITE & BI COLOR PERSIANS - CFA Geg breeder of Top Show show quality Solid white and Bi Color Persians.Top CFA well known GC,RW,NW pedigrees, PKD DNA Testing cattery.

Basic Member

Upgrade
LovLions Persians - Bicolors, Parti's, Solids and Tabbies-National and Regional lines.

Basic Member

Upgrade
FANCYFRIENDS - Himalayans & Colorpoint Exotics.

Basic Member

Upgrade
Ultamint Silvers - Beautiful Chinchilla and Shaded Silvers.

Basic Member

Upgrade
Granite Farms - Persians and Himalayans - Specializing in healthy, friendly, family raised kittens.

Basic Member

Upgrade
Pampered Persians

Basic Member

Upgrade
Puffy Persian Kittens - Beautiful Persian kittens in most colors including blue eyed whites. PKG negetative, vaccinated, and vet approved.

Basic Member

Upgrade
Heavenly Purrs - Beautiful persian and himalyan kittens, in all colors, including chocolate and lilac.

Basic Member

Upgrade
Chubby Cheeks - Beautiful persian and himalyan kittens, in all colors, including chocolate and lilac.

Basic Member

Upgrade
Mythicbells Persians - CFA Registered Shaded Silver and Golden Persians. Health guarantee, raised underfoot. DNA/PKD NEG.

Basic Member

Upgrade
AreALand's Cattery - Regional and National Winner lines. All colors. Specializes in tabby and blue. CFA Exotic Breed Council Member.

Basic Member

Upgrade
Afurrypaw.com - Himalayans, Chocolate points, seal points and lilac points.

Basic Member

Upgrade
Muffhyms Cattery - Champion line,guarantee,vet cert PERSIAN/HIMI'S Babydoll Face.

Basic Member

Upgrade
Fancy Paws Himalayans & Persians - Quality pets & companions just for you.

Basic Member

Upgrade
Silver Estate Persiana - Chinchilla & Shaded Silver Persians.....I have been breeding & showing in CFA for 23 Yrs. I ama small cageless cattery that takes pride in good health and having sweet personality.

Basic Member

Upgrade
Persiansnexotics - Quality Grand Champion lines, Persian and Exotic Shorthair kittens, lovingly raised in Sacramento, CA.

Basic Member

Upgrade
Fancyfriends - healthy,loving & beautiful pkd negative show type kittys.

Basic Member

Upgrade
Ultamint - Award winning Chinchilla & Shaded Silver Persians.

Basic Member

Upgrade
FELINART Himalayan Persians - CFA and TICA registered PKD-negative cattery. Regional Winner lines.

Basic Member

Upgrade
Chocolate Delights - Beautiful persian and himalayan kittens in all colors, but our passion is chocolate. Dedicated to brining you healthy happy kittens.

Basic Member

Upgrade
Silver Estate Persians - Breeding 23 yrs.& showing CFA actively with the Silver Persians. I'm a small cageless breeder & guarantee health. My cats are my family and are a labor of love. Please feel free to call on me.

Basic Member

Upgrade
Ooh La La Himalayan & Persian Kittens - We raise adorable much sort after persians & himalayan babies.

Basic Member

Upgrade
KittyAlamode - Persians and Exotic Shorthairs.

Basic Member

Upgrade
Quality Kittens - Quality kittens raised lovingly with our family to yours. Grand Champion sired.

Basic Member

Upgrade
Sugar Kisses - Quality Persian & Himalayan kittens.

Basic Member

Upgrade
Wuvpaws Persians - "LOVING BALLS OF FLUFF" CFA Reg,TICA Reg,PKD Neg. Specializing in Bicolors,Tabbys,Smokes,Solids, Regional and National Lines. Kittens always available.

Basic Member

Upgrade
Phantom Angel Persians - Exclusively CFA/TICA Award Winning Himalayan Persians.

Basic Member

Upgrade
Paws à la Mode Himalayan Cattery - Breeding himayalans and persians for excellence, health, type, and temperament.

Basic Member

Upgrade
Jade River - We specialize in beautiful Silver and Golden Persians and Exotics. All our cats are treasured members of our family. Please have a look at our website.

Basic Member

Upgrade
Sugar Kisses - Quality Himalayan & Persian kittens.

Basic Member

Upgrade
Dust Bunnies - Quality Himalayan & Persian kittens.

Basic Member

Upgrade
Sugar Paws - Small in home cattery producing quality Perisan and Himalayan kitens.

Basic Member

Upgrade
Royal Persians - Royal Persians is a small in-home cattery specializing in Solid White Blue Eyed white kittens. Visit our website to see our available babies!

Basic Member

Upgrade
Catz Couture - We are a small in home cattery specializing in himalayan and persian kittens.

Basic Member

Upgrade
Couture Kittens - Doll faced Himalayan Persian kittens.

Basic Member

Upgrade
P3RSIANS - Ethics, Education, Enrichment - kittens/ cats to pet homes.

Basic Member

Upgrade
Quality Kittens - Grand Champion sired Persian and Exotic Shorthair kittens, lovingly raised in our home.

Basic Member

Upgrade
Shadowoak Persians - We raise BiColor and Van kittens for show and pets. All kittens are vet checked and have up to date shots and tests before leaving for their new homes. Please check out our website.

Basic Member

Upgrade
Cleokat persians - Healthy, Happy, Cute..CFA pure Persians.

Basic Member

Upgrade
Kittens by Design - Beautiful Himalayan and Persian kittens raised for health, beauty and loving homes

Basic Member

Upgrade